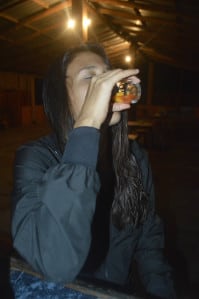 Part of a series by students of the University of Arizona School of Journalism's study abroad program in Costa Rica.
PLAYA OSTIONAL, Guanacaste – Gallo pinto, casados, and corn tamales are some of the most common dishes served in Costa Rica. But there's another food in which many Ticos also indulge: sea turtle eggs.
"Here in the Guanacaste area many people prepare turtle eggs in many different ways, from turtle egg omelets to drinking turtle eggs with whiskey," said Tomás Chavarría, a longtime resident of Playa Ostional, and a leading member of the Asociación de Desarrollo Integral de Ostional, or ADIO.
Legally harvested turtle eggs can be found in this small beach town on the Pacific coast. At the recently reopened Las Brisas del Pacífico, bar customers can have a beer and chase it with a turtle egg shot.
"The eggs we have here are sold year-round and are always refrigerated," said bar owner Álvaro Sandoval.
Bar customer María José Sevilla indulges in her first ever turtle egg sangrita shot.
Locals say the most popular kind of turtle egg consumption is in its raw form. Customers at Las Brisas can buy a single egg for ₡300 – less than … continue reading
Via:: Tico Times