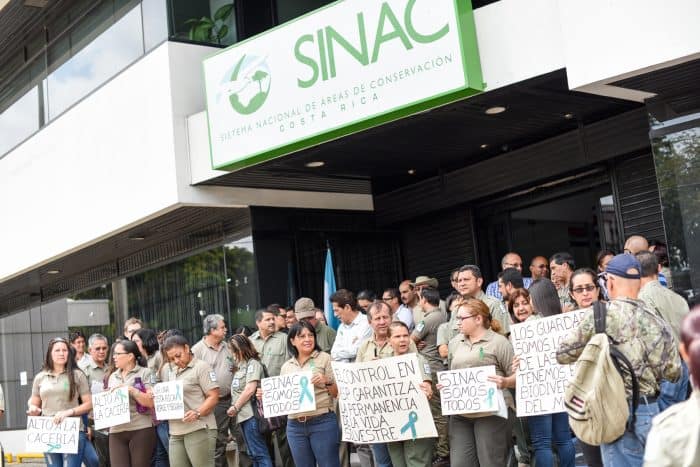 Costa Rica park ranger Mauricio Steller Fallas — recently sentenced to 12 years in prison for shooting a suspected poacher — reached martyr status this past week in local media and among Costa Rican and international conservationists. Even some lawmakers said the 32-year-old Steller should be pardoned for what appeared to many to be an act of self-defense in a dangerous situation.
Then, on Thursday, it came to light that Steller was the subject of a separate investigation for allegedly stealing and selling drugs. Steller's current lawyer said his client failed to tell him about the investigation, making him question whether to continue representing the park ranger.
Nevertheless, support for Steller among his colleagues and fellow conservationists appears to have wavered little. On Friday morning dozens of workers from Costa Rica's National System of Conservation Areas (SINAC), including Executive Director Julio Jurado, gathered outside SINAC's main office in San José to protest against Steller's prison sentence and, in general, against poor working conditions for park rangers.
Steller, who worked in the Osa Conservation Area, was convicted of attempted murder for shooting a suspected poacher during a beach patrol in 2009. Park rangers say they are under-equipped and ill-trained to handle situations that could necessitate the use of deadly … continue reading
Via:: Tico Times