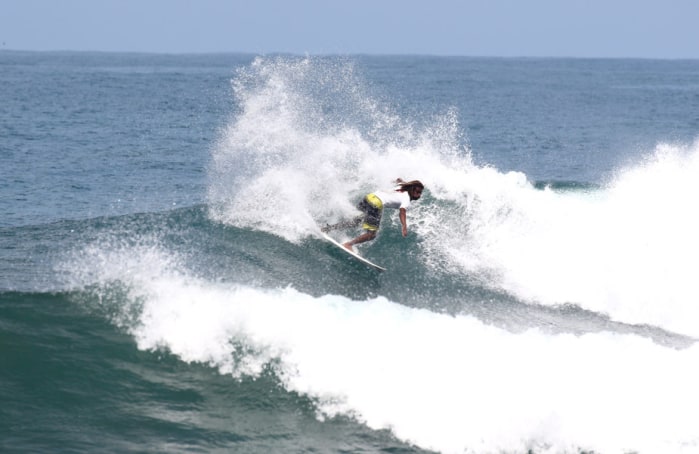 Gilbert Brown competes at Roca Loca.
The champion said he felt comfortable surfing waves with force, and his strategy was smart all weekend. "Roca Loca is a wave that has a lot of mass, and my strategy was to use a surfboard that was two inches longer and half an inch thicker than I normally use, which gave me the advantage in paddling and when the waves got fatter at high tide," Brown said. "I saw a very tough opponent in Cali [Muñoz]. He fought me in the semifinals and the finals. But I thank God for giving me the waves so I could win."
On the women's side, Leilani McGonagle of Pavones added another accolade to her packed résumé, taking the Women's Open trophy on Sunday. Costa Rica had a full house in this category, even acing out of the finals Peru's Carolina Thun, who currently holds the ALAS Women's top ranking. Following McGonagle's lead was Jacó's Emily Gussoni and Lisbeth Vindes, who placed second and third, respectively, with Tamarindo's Zulay Martínez taking fourth. Both Gussoni and Martínez are new to ALAS competition as well as to Roca Loca.
"It was a real challenge for the girls, because a lot of them hadn't surfed Roca Loca before," Naranjo said. "However, the levels of the girls in the finals were high, and the waves were good. Leilani was ripping. What can I say? She was amazing."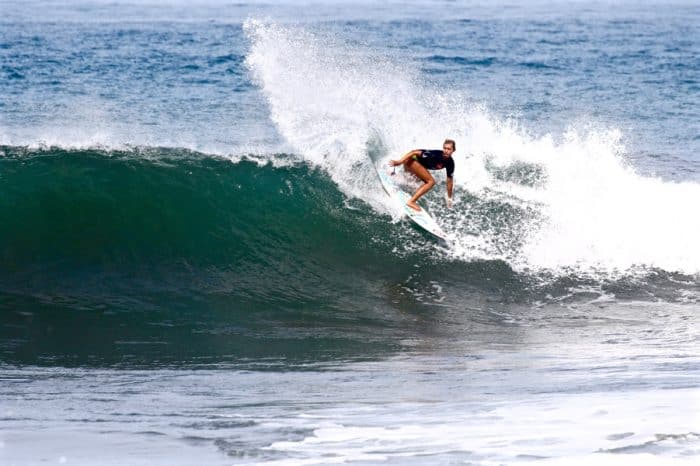 Many Costa Rican surfers participate in the ALAS dates precisely to raise their level of competitiveness. They are able to push up their skills against athletes from other parts of Latin America, including some who already have demonstrated talent at breaks in El Salvador, Peru and Ecuador, among other spots.
ROCA LOCA, Puntarenas — With an unusually light schedule for this year's Latin Pro, the Association of Latin American Professional Surfers (ALAS) was fortunate that Diego Naranjo stepped in to secure two Costa Rica stops on the association's competitive circuit.
ALAS, founded in 1998 by the El Salvador Surfing Association in order to promote surfing among young people in Latin America, has found difficult financial footing this year. As a result, it has only put up three events so far this season when typically six or seven would have taken place. Naranjo and the Jacó Surf Association were able to find the sponsors for contests here, the first of which took place this past weekend.
On Sunday, at the completion of the Claro Latin Pro Costa Rica event in Roca Loca – located between Jacó and Hermosa in the Central Pacific – the Ticos got a chance to show their superior surfing talents to participants who came from all over Latin America to add valuable points to the ALAS leaderboard.
Roca Loca also cooperated by offering spectacular, big waves coming off a weekend swell. The Ticos, many of whom already knew the break, stole the show at what Naranjo described as a "natural amphitheater." Judges, tents and … continue reading
Via:: Tico Times