By Alberto Font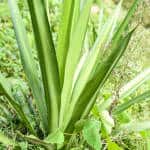 His full name is Juan Olivado Camacho, but everybody knows him as Martina or Don Tina. "I used to go to see this band called Los Hicsos and the singer's name was Martina, so everybody started to tell me, 'We saw you at Martina's concert,' and then they started calling me 'Martina,'" Olivado said.
That's a time of Don Tina's life he likes to remember, so that he doesn't repeat it again.
He was born in 1940, in San Isidro del Guarco, Cartago and started learning to work with cabuya, a type of agave grown for its fiber, when he was about 12 years old. Olivado said there were a lot of people working with cabuya fiber back then and he was a curious kid, so he watched them and quickly learned. "In my first job, I started making 6 cents a day" he said.
The fiber from Costa Rica's cabuya plant (Furcraea cabuya), part of the agave family, has been used for centuries to make rope, bags and other woven items.
Don Tina's story continues below the photo gallery.
When Olivado was 13 he was already very good at working with cabuya fiber so people from … continue reading
Via:: Tico Times