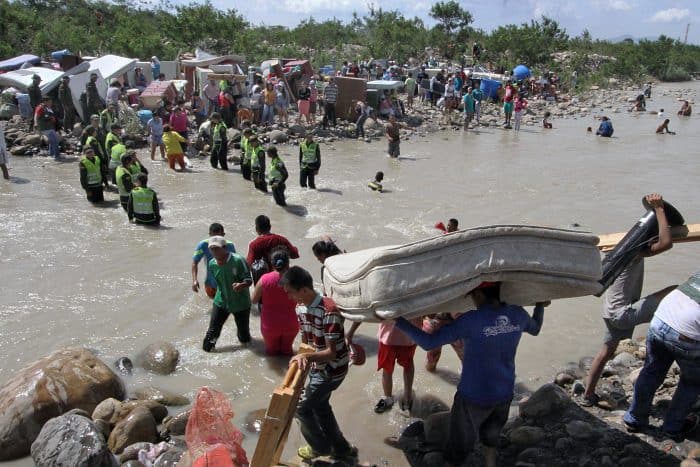 Colombian police help Colombian citizens carry their belongings as they cross the Táchira border river from Brisas de Barinitas, Táchira state, Venezuela to Colombia on Aug. 25, 2015. Colombia complained Monday that Venezuela's mass deportation of its citizens during a crackdown on smuggling has created a "humanitarian tragedy" on part of their border.
A Pew survey last year showed that 62 percent of Venezuelans looked favorably on the United States; by last month, Maduro's approval rate had fallen to a record low of 25 percent.
A poll published Thursday showed that three of four Venezuelans rejected the state of exception in the troubled border region, and nearly 77 percent said they believed the crackdown on Colombians was a smoke screen for the country's
By now Venezuelans have grown accustomed to President Nicolás Maduro's penchant for pinning his country's economic crisis on a gamut of devils, from native capitalist speculators to Yanqui meddlers. But by sending troops to round up and deport Colombian nationals, toppling homes and separating families in the process, he may have outdone himself.
The incident was triggered by an attack last week, when unidentified gunmen left three Venezuelan border guards and one civilian injured. Maduro was quick to blame Colombia's paramilitary forces, purportedly linked to ultra-conservative former Colombian president Alvaro Uribe, so injecting a note of political intrigue into the frontier incident.
More than 1,000 Colombian immigrants have so far been deported from the state of Tachira, in western Venezuela. The deportees, plus another 4,000 or so Colombians who fled for fear of eviction, swept up everything they could carry and rushed to the border, some wading rushing rivers to safety.
See: PHOTOS: Colombians flee Venezuela after mass deportations
As the roundup spread, Maduro's Bolivarian guard emblazoned each migrant's home with a blue R, for legal residents, or a red D for demolition, in the case of undocumented immigrants, adding a chilling Gestapo flourish to this tropical version of cultural cleansing.
What's clear is that this … continue reading
Via:: Tico Times