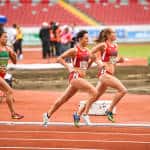 The United States anthem played on repeat Saturday afternoon at the National Stadium in San José as athletes from the country dominated day two of the North American, Central American and Caribbean Athletics Association (NACAC) Championships.
Lolo Jones, the two-time world outdoor champion, added a NACAC championship to her long list of accolades after posting a 12.63 time in the women's 110 meter hurdles. A three-time Olympian, Jones is one of the most recognizable faces in track and field and was bombarded with autograph requests and fan photos throughout the day. Though she has her sights set on upcoming races in order to make the U.S. team for the 2016 Summer Olympics in Rio de Janeiro, the 33-year-old Jones said she wants to enjoy her stay here as much as possible.
"I want to go see some parts of Costa Rica since it's my first time in the country," she said after the race.
Jones' gold medal in the hurdles was accompanied by a silver from teammate Tenaya Jones. In the women's 100 meter dash, Barbara Pierre and Charonda Williams led the U.S. to another first and second place finish on the podium.
Not to be outdone, Andrew Wheating and Daniel Winn also won gold and silver medals with their dominating performances in … continue reading
Via:: Tico Times