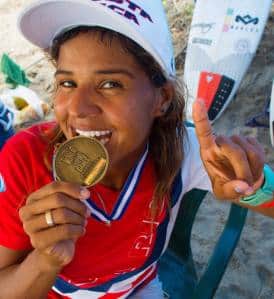 See also: Costa Rica crowned 2015 world surfing champion
It has already been an incredible year for Lisbeth Vindas. In July, the 11-time Costa Rican women's champion surfer from the Central Pacific beach town of Jacó turned 35; she already has another National Title under her belt from the Women's Open and a gold medal as part of Costa Rica's National Team at the International Surf Association (ISA) World Surf Games in Nicaragua.
I met Lisbeth approximately 18 years ago. She had already been surfing for two years, often with my younger sister Colleen Hanley Prior, who lived in Jacó at the time. I have long been impressed by her surfing style, especially in the big waves, and it's great to see how far she has come in her surfing career.
She recently took some time to talk about her passion, life growing up in Jacó, and how it feels to be one of Costa Rica's first pioneers of women's surfing. Excerpts:
TT: Tell us about growing up in Jacó and when you started to surf. There weren't many other girls surfing or competing in Costa Rica at that time. What motivated you?
LV: My grandpa was the first member of our family to … continue reading
Via:: Tico Times