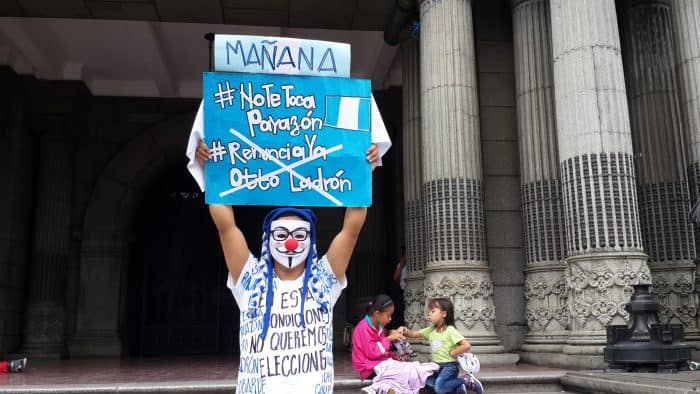 Protests against government corruption – which brought down the country's president, vice president and several Cabinet members – continue despite general elections on Sunday.
Apathy and discontent
Last week, mass protests turned to celebration as President Pérez Molina stepped down. Last Thursday, lawmakers swore in Vice President Alejandro Maldonado as the country's new head of state. Maldonado, a 79-year-old lawyer and former Constitutional Court judge, will hold power until an elected successor takes office on Jan. 14, the AFP reported.
In contrast, on Election Day, apart from a few more traffic jams, life in Guatemala's capital city had a semblance of normality, with little celebration. Some residents strolled with their families, shopped, chatted, and in many cases, ignored the political event happening around them.
Many who went to the polls on Sunday said they voted out of civic obligation rather than enthusiastic support for a favorite candidate. Most voters who spoke with The Tico Times expressed doubts as to whether a single presidential candidate — of the 14 on the ballot — was worth voting for.
"I don't think there are any good options. But I think that the people who came to vote have the right to criticize the government — even if it's a null vote. If we don't participate [in the elections], we don't have the right to criticize the next government," said Byron Montenegro, a voter from the Guatemala City suburb of Mixco.
But Montenegro also believes the recent U.N.-backed corruption probe, known as "La Línea," which led to
GUATEMALA CITY – Guatemalans went to the polls on Sunday to elect their next president amid a deep political crisis rocking the country. The election, conducted in an atmosphere of deep skepticism, came down to the wire.
No candidate won outright with more than 50 percent of the votes cast. Comedian-turned-politician Jimmy Morales, 46, candidate of the National Convergence Front, currently is in the lead by a wide margin. But in a surprise for many Guatemalans, former First Lady Sandra Torres of the National Union of Hope (UNE) – who for much of the campaign polled in a distant third place – was neck-and-neck with Líder party candidate Manuel Baldizón for a second-place spot in an Oct. 25 runoff election.
At midday on Monday, 97 percent of the votes had been counted.
See also: Guatemala elections marred by tensions as parties herd voters to other constituencies
Baldizón, who had been a frontrunner for much of the campaign, dropped dramatically on Election Day.
"At this point, citizens prefer any other candidate but Manuel Baldizón," Guatemala City voter Rosita Cesena Casimiro told The Tico Times.
In recent weeks, Baldizón became the face of politics-as-usual in Guatemala. He is considered by many to be the continuation of … continue reading
Via:: Tico Times