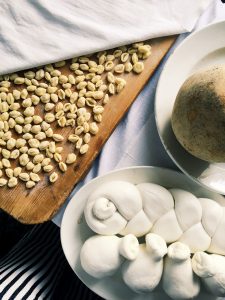 It could be anytime between noon and four, and my stomach grumbles. I pad barefoot down the cool marble stairs and pop into the kitchen at the Palazzo Margherita, in southern Italy. I raid plates of cheese, smear hunks of bread in jam, ask for sweets and leftover tangerine juice, even though dinner's fresh pastas and sauces are well under way.
This deliciously languid, come-as-you-are ease is rarely the province of a five-star European hotel, especially one with a celebrity pedigree. But this hotel is owned by Francis Ford Coppola, Hollywood's most legendary family man, and he wants you to make yourself comfortable here in his ancestral home of Bernalda, smack in the middle of boot-heeled Italy's arch.
Coppola never meant to be a hotelier. He just liked taking his family on vacation.
Some of the items on the table at the Palazzo Margherita.
After falling in love with the jungle while filming "Apocalypse Now" in the Philippines, he decided to get a little piece of it closer to the United States. In the early 1980s, Coppola picked up a run-down lodge in the mountainous rain forest of newly independent Belize and outfitted it … continue reading
Via:: Tico Times