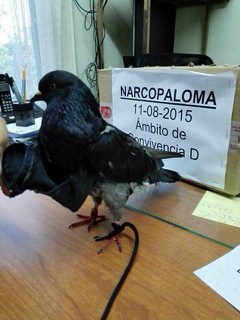 Look closely. Yes that is, indeed, a pigeon with a bag full of marijuana attached to its belly. Members of Costa Rica's Penitentiary Police captured the bird near La Reforma prison in San Rafael de Alajuela on Tuesday.
The bird was carrying 14 grams of weed and 14 grams of cocaine, the Ministry of Justice and Peace posted on its Facebook page.
"Drug pigeon," August 11, 2015.
The news quickly inspired social media merriment, including this fake news alert, warning that pigeons were threatening to take over San José if their comrade #NarcoPaloma wasn't released.
#UH: Palomas amenazan con tomar por la fuerza San Jose si no se libera a la #NarcoPaloma pic.twitter.com/uHtKElGsC8
— Campos (@AdrianCS93) August 11, 2015
It's certainly not the first time pigeons have been co-opted into ferrying drugs. Narcopalomas have been caught in Colombia, Argentina and Bosnia.
Famed Mexican drug outlaw Joaquín "El Chapo" Guzmán reportedly prefers a different bird species to help him in his pursuits. After he escaped last month from a maximum-security prison in Mexico, authorities found a dead canary in El Chapo's cell. They think he used the bird to test the air quality in the tunnel through which … continue reading
Via:: Tico Times