By Karl Kahler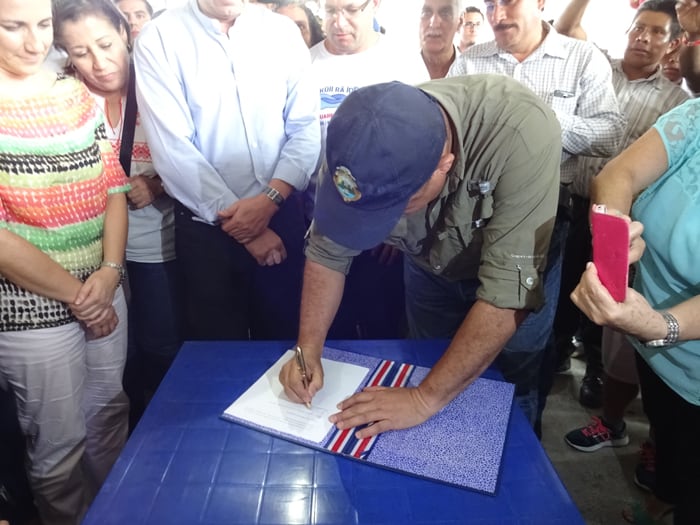 TURRIALBA, Cartago — After a morning of whitewater rafting with his family, President Luis Guillermo Solís signed a decree Saturday banning dams from the Pacuare and Savegre rivers for 25 years, then thrust the document into the air and said, "For Costa Rica!"
Luis Guillermo Solís signs a presidential decree banning dams from the Pacuare and Savegre rivers for 25 years.
Solís holds the decree overhead and says, "For Costa Rica!"
"Signing is the easy part," Solís said to volunteers earlier who took him on a short float down the Pacuare, his first rafting trip. "The hard part is the work that you have been doing for many years."
Solís adjusts his life vest in preparation for rafting.
Solís puts on a rafting helmet.
¡Listo! Solís is handed a paddle.
Solís, First Lady Mercedes Peñas, and daughter Inés, along with Environment Minister Edgar Gutiérrez, were briefed at the side of the river on the basics of rafting by longtime guide Luis Sánchez Hernández, better known as Luigi. Then with an "Adelante" from Luigi, they put their paddles in the water and began their float from a put-in near … continue reading
Via:: Tico Times