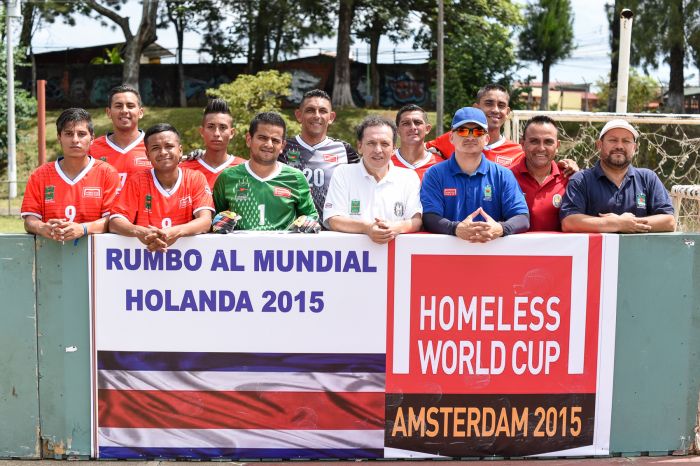 Over the concrete, the ball zigs through a moving maze of neon shoes, whistling as it scrapes along until a powerful kick sends it into the waist-high goal with a decisive swoosh.
Eight players of varying ages and backgrounds practice street football on a rectangular stretch of pavement confined by a short, green wall at a sports park in San Francisco de Dos Ríos, east of downtown San José. On either side of their makeshift court, one football field is occupied by neighbors playing a mejenga, a pickup game, and the other by a local high school team holding practice.
But it's that relatively anonymous team in the middle that's been chosen to represent Costa Rica in an international tournament.
Midway through practice, the eight players huddle together in a green shed next to the court. José Luis Monge Fernández, team coach and director of the Listening to the Homeless Association, goes over strategy in anticipation of the Homeless World Cup that begins Sept. 12 in Holland. Donning new jerseys and flashy shoes, it's easy to forget that all of the players have had to overcome addictions to drugs or alcohol, life on the streets, and broken families to make it this far.
Mario Montero Calderón, a 52-year-old teacher who has helped Monge at the association for the past … continue reading
Via:: Tico Times