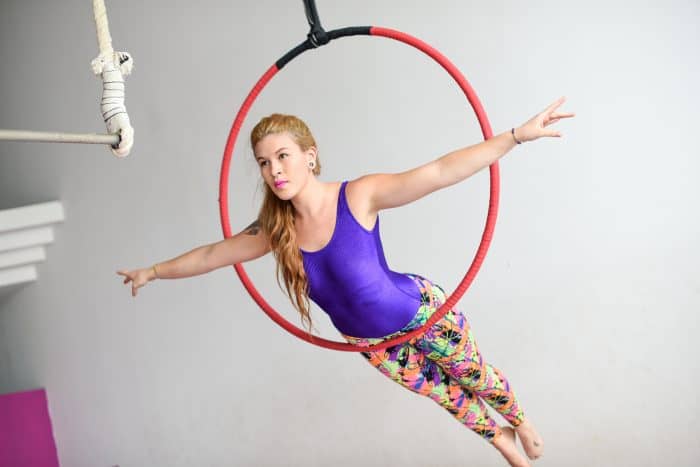 The Tico Times is pleased to present a new series for your weekend reading pleasure: Sunday interviews with artists who are from, working in, or inspired by Costa Rica, ranging from writers and actors to dancers and musicians. Do you know of an artist we should consider, whether a long-time favorite or an up-and-comer? Email us at kstanley@ticotimes.net. This week, we begin our series on a high note, in every sense.
Priscilla Ovares Salazar, 26, is a talented young acrobat. She is a member and trainer at the Danzaire Company, an aerial acrobatics and dance academy in San Pedro, where she practices aerial silks, trapeze, lira and vertical dance; she has a background in gymnastics, dance and cheerleading. The Tico Times sat down to talk to her at the academy, with students "flying" on the silks just above us.
TT: What is aerial acrobatics?
PO: Here in Costa Rica, the best-known aerial acrobatics are trapeze, aerial silks, lira and vertical dance. The trapeze consists of a horizontal bar with two lateral strings; the lira is a hoop hanging from a string; aerial silks consists of two hanging silks, or you can have a drop hammock, which is silk hanging like a hammock. Finally, vertical dance is … continue reading
Via:: Tico Times